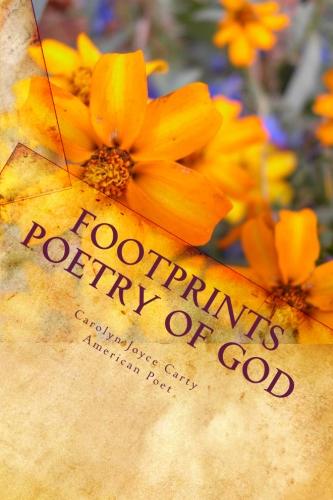 Carolyn Joyce Carty American Poetry Journals - The poet first experienced writing & reading was at age four. At age six she became a published author. Carolyn credits her family's history of authors and publishers as her greatest influences. Carolyn known as (Carrie) is best known for using the tag author anonymous when she wrote her Footprints poetry in 1963. She was influenced by her Uncle Robert Louis Scharring-Hausen nature columnist at the Trenton Times. "Scharry" was Carolyn's publisher. Carolyn is the only Footprints poem author whose work is described as anonymous at the US Copyright office. Carolyn's aspirations were to hopefully earn a Nobel Prize in Literature someday. This author has great insight and expresses her poems in a journey with God in a remarkable way. She hopes you too will enjoy her poetry. Carolyn Joyce Carty hopes you will share her legacy by reading & sharing her poetry and to help make publishing history correct in anecdote. Carolyn became public with her private collection of writings to preserve the historical foundation of the footprints poem collection and its authorship by producing her anthology. No other authors work supports the footprints poem text in its entirety other than Carolyn's. Various authors have claimed other versions in similar poems but none can compare with my footprints poem original authorship. Footprints Publishings Inc.
Christian Poetry Books Bestsellers List
Robert Louis Scharring-Hausen Founding Father of Library Week
May 21-30 1921 Hopewell, New Jersey Robert Louis Scharring Hausen author, historian, journalist, founding father of library week was married to Ella H Scharring-Hausen.
Carolyn Joyce Carty American Poet Links
the profound writings of footprints sand poem," it was in my stars to write footprints" carolyn joyce carty american poet first experienced reading writing was at a very young age. American poetry journals footprints poem books shop bestsellers footprints journals my thoughts.