Christian Living Devotionals Gift Books Inspirational Books Personal / Spiritual Growth Footprints Publishings
About the author:
American Poet Carolyn Joyce Carty first experienced reading & writing at age four. At age six she became a published author. Carolyn credits her family's history of authors and publishers as her greatest influences. Carrie is best known for using the tag author anonymous when she wrote her Footprints poem in 1963. She was influenced by her Uncle Robert L. Scharring-Hausen nature columnist who worked at the Trenton Times. "Scharry" was Carolyn's publisher. Carolyn is the only Footprints poem author whose work is described as anonymous at the US Copyright office. Carolyn's aspirations in 1963 were to earn a Nobel Prize in Literature someday. This author has great insight and expresses her poems as a journey with God in a remarkable way. She hopes you will enjoy her poetry. Carolyn Joyce Carty hopes you will share her legacy by reading & sharing her poetry and to help make publishing history correct in anecdote. Carolyn went public with her private collection of writings to preserve the historical foundation of the footprints poem collection and its authorship by producing The Footprints of God Jesus Footprints poetry anthology. No other authors work supports the footprints poem text in its entirety other than Carolyn's. Various authors have claimed other versions in similar poems but none can compare with its original authorship. A personal note from the author; since others have declared the authorship of my poetry I feel it is necessary to let the public know that individuals did not author my poetry. Although I am flattered they admired my poetry any claims made by any individual claiming they authored the footprints poem have only sought to gain notoriety for its authorship. My publisher Robert Louis Scharring-Hausen perhaps had more insight than I may have ever realized...I believe he personally understood just how difficult the publishing industry could be on a youth. His personal insight certainly helped the success of my poetry and for that I am very grateful. I would also like to thank the public for the support of the popularity of my personal work. I now understand as an adult why my childhood image of my authorship was withheld from the public. I have now retired the tag of author anonymous which became seriously mistaken for author unknown. I do think that having nearly five decades in successful publishing that I have finally earned my title American Poet and I thank God.


The Footprints of God
Jesus Footprints Sand
Authored by Carolyn Joyce Carty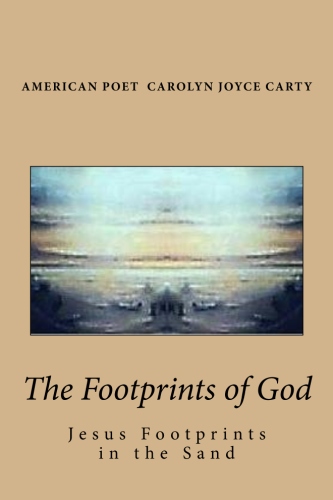 The Footprints of God is a short story that belongs to the famous footprints poem authored by Carolyn Joyce Carty 5 decades ago. It Is a story about eternal inheritance. This book is filled with the faith and understanding of God as seen through the eyes of a child. When Carolyn Joyce Carty first wrote the short story her original footprints poem became the epilogue to the entire story. See books written by Carolyn Joyce Carty American Poet this item is currently published in the Footprints Poetry of God, Footprints God's Word & Footprints Poem Books paperback editions now available for online shopping & Christian bookstores worldwide. No other authors who claimed to have written the famous footprints poem text can claim this text of Jesus Footprints Sand.

Publication Date: Jun 20 2011
ISBN/EAN13: 146362817X / 9781463628178
Page Count: 40
Binding Type: US Trade Paper
Trim Size: 6" x 9"
Language: English
Color: Black and White
Related Categories: Literary Collections / American / General /
Inspirational / Religious & Inspirational / Poetry Collection /
Poetry Anthology / Anthology of Poetry / Christian Poems /
Bestseller
Best Inspirational Books
Footprints Sand Poems
www.createspace.com/3619159
All information contained in these pages are copyrighted intellectual property and may not be copied you may link to these references but you may not copy them.